Microchip Your Pet In Case of Emergency
Home • Veterinary Services • Pet Microchipping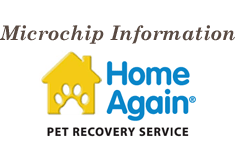 Microchips have helped reunite thousands of pets with their families. Creature Comforts Animal Clinic recommends that all pets be microchipped. We offer one of the most widely used microchip products to increase the chances of a safe recovery.
Microchip Implantation
Microchipping your pet is the best way to ensure the safe return of your missing pet. We can microchip your dog or cat at any time, even during your pet's preventative care exam.
Microchip implantation is a simple procedure and does not require your pet to be anesthetized. We implant a tiny microchip the size of a grain of rice between your pet's shoulder blades and under the skin using a pre-loaded sterile syringe. The microchip is a tiny transponder, coded to display a unique identification number capable of being read by a hand-held scanner. The chip is registered with Home Again, linking your pet's name with your contact information and your veterinarian.
If your pet were ever lost, veterinary hospitals, animal control, animal rescues and shelters across the country are now equipped with scanners capable of detecting and reading microchips, give you the best possible chance you and your pet are re-united. You can download a picture of your pet along with a description to the Home Again website. When you notify Home Again that your pet is lost, they will immediately send out flyers of your lost pet to area veterinary clinics, shelters, etc. They also offer free calls to poison control, with your yearly membership, in case your pet eats something they shouldn't have.
Found Pets
You can also use the Pet Microchip Lookup web site to find a pet's owners based on the microchip number if you should find a lost pet. You can give us a call and bring the found pet to our clinic and we will be happy to scan the pet for you to see if it has a microchip.
At Creature Comforts Animal Clinic, we are committed to the safe return of your pet in the unfortunate event he/she goes missing. Please ask us to microchip your pet during your next appointment.